Boiler Service & Repair Norwich 
Heatcare Norwich Ltd Providing boiler service & heating repair to residential and commercial properties throughout Norwich, our plumbing experts experienced in both home and business plumbing, with excellent knowledge of boiler breakdown and plumbing gas installations. We are Gas Safe Registered and IPHE approved and with over 20 years experience we consider ourselves experts in service and breakdowns whether it is a gas boiler servicing Norwich or central heating system.
We offer breakdown & repair for small offices, shops and residential properties, provide many happy clients in and around the Norwich & Norfolk area that use us time and time again for all their boiler service needs.
Service includes:
Cleaning out condensing trap
Checking flue seals and condition
Checking heat exchanger casing and seals
Carrying out a co2 reading
Checking gas inlet pressure
Bleeding Radiators and topping up system pressure
Heating Repair
Boiler Servicing
Installation And Heating Systems 
Washing clothes, rinsing dishes, washing your hands, taking a shower, cleaning the bathroom, the list of activities that involve boiler usage is long. It gives you some idea of just how much they require attention. If you want your property's boiler to last a long time, it is crucial you take care of it with an annual boiler repair & maintenance. We recommend that your have a check once a year and contact us if you live in the Norwich area.
Regularly safety inspections & maintaining may seem costly, but it is cheaper than replacing it every three years, and any other property damage which may occur, such as damp from slow leaks, heating faults or floods. You may also find that you are liable for another property's damage if you own a flat that is above another and cause water damage to the flat below.
Have Your Gas Boiler Inspection At A Time That Suits You
As specialists within the industry we realize the through our experience that our customers sometimes have hectic lifestyles. This is why we operate 7 days a week and in the evenings. This means when you need your annual check up we can arrange to visit at a time that suits you. Whether it be 8pm in the evening a Saturday or a Sunday we never charge any extra. This is all part of the high quality customer service we offer to our clients.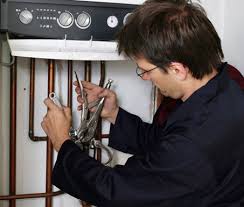 We pride ourselves on employing only the best boiler technicians in the county. We have some senior staff who have been replacing, repairing and servicing in Norwich for over 20 years. All of our technicians qualifications are stringently checked prior to employment. They are all fully qualified plumbers who decided to specialize in boiler services. They are all R.G.I. registered and up to date with all current health and safety legislation. Once your boiler has been serviced you will get a professionally signed ticket saying that it has passed inspection and is working at it's optimum capacity.
Why should I get my Boiler Serviced?
There are a number of reasons. An annual service will ensure that your boiler is working correctly to the specifications stated by the manufacturer. This will assist in extending the lifespan of the boiler and greatly reduce the risk of faults and expensive repairs in the future.
Unfortunately like anything the efficiency of your gas boiler will gradually deteriorate with use. There below are some reasons for this.
During the combustion process soot is produced, this coats the heater exchange surfaces.
The air to fuel combustion ratio changes gradually due to parts wearing.
A gas boiler service will remove any sooting. The boiler will then regain optimum combustion conditions. Optimizing efficiency means reducing fuel costs.  Whilst saving money is always important there are other benefits also.
Having the safety controls checked means that early failures can be identified and rectified.
Your boiler will be checked for gas leaks.
Your boilers start up performance can be checked and optimized.
If your boiler is making strange noises, these can give a signal of impending failure of certain parts. These issues can be addressed and rectified.
Book your service by the professional Corgi registered engineers for as little as £60 depending on the make and model. To arrange a inspection just call on 01603 552132. If you would like to learn more about boilers or verify the information above just click the link.
Book Your Boiler Service For £60 Today